Functions
Mini-Polisher is a kind of dental descaler equipment which is used synthetically with dental machinery . It is connected to the joint of dental machinery which used to connect tohigh speed handpiece.
Panorama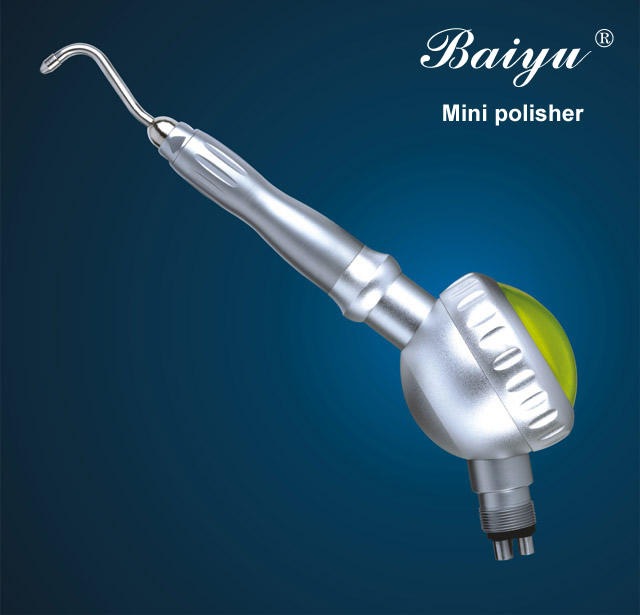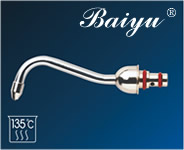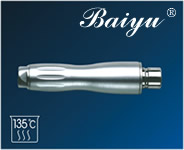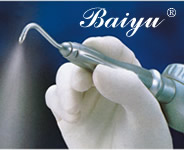 The theory of Mini-Polisher
The compressing air input the case of mini polisher, active the powder,forming a fog of powder,Then the powder fog spurt out from the centre pipe of the nozzle of mini polisher. While the water input the mini polisher ,output from the gap between inner pipe and outer pipe of the nozzle.The powder flow and the water flow mix at the outlet of the nozzle,forming a spray,the spray hit the stains on the teeth.
Features
1.The appearance is handsome and dexterous and the structure is indiscrete.
2.Directly connecting todental machinery, so it is very handy.
3. Replace the trunk by push-pull.
4. It can be sterilized in temperature of 135℃.
5. One-way facility in Mini-polisher can prevent powder from return.
Specifications
1.Water pressure:0.05Mpa-0.5MPa
2.Water type:Tap water
3.Water flow:0mL/Min-350mL/Min
4.Air pressure:0.2MPa-0.5MPa
5.Powder flow:0g/Min-20g/Min
6.Granularity of powder :100 Mesh
7.Powder type:Sodium bicarbonate ,Calcium carbonate,or silicon dioxide
Interface type
components
Nozzle---------------------1 pcs
Trunk----------------------1 pcs
Mainbody-------------------1 pcs
Spare parts----------------1 pcs
Needle---------------------1 pcs
Qc-------------------------1 pcs
manual---------------------1 pcs
powder(choose and buy)-----1 pcs (choose and buy)
Pakage
Weight
Gross weight(including powder):0.475Kg
Gross weight(Barring powder):0.309Kg
Net weight(barring powder,packing materials and spare parts):0.128Kg
Big Carton package
23PCS carton