B6 Ultrasonic scaler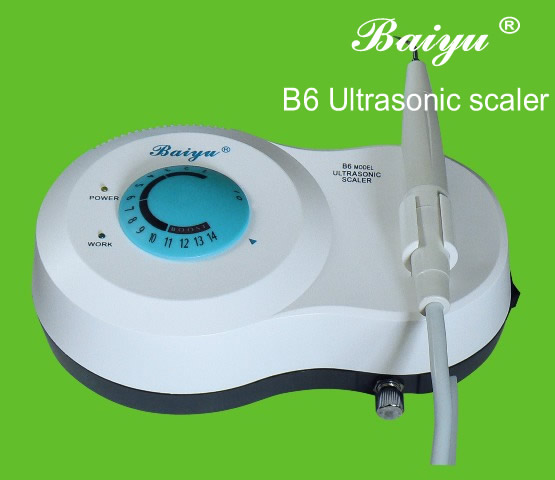 Functions of B6 ultrasonic scaler .
Ultrasonic scaler is mainly used to remove dental calculi, tobacco stains, bacterial specks and tea stains.

Features of B6 ultrasonic scaler.
1.The handpiece is separated ,push-pull.
2.The handpiece is autoclavable at 135℃, 0.22Mpa, time after time.because the shell is made of heat-resistant plastic.
3.The power adapt is inside the case, so that the scaler can work immediately by pluging the power. It is conveinent to install and move.
4.However, generally the power adapt of other brand scaler is outside the case, so that it isn't convenient to install and move.
5.The transducer inside the handpiece is made of Titanium alloy to ensure sound mechanic function and durability.
6.The tips is made of high strength stainless steel.
7.Vibration come from piezo-ceramic, powerful ,durable ,but a little heat.
8.Automatic frequency tracing ensure that the machine always works on the best frequency steadly.
9.Scale efficiently.
10.The cord is made of silica gel , soft and durable.
12.Exquisite outline
13.Easy to operation.
Technical specifications.
Power input: 220VAC,230VAC,or 110VAC,50Hz or 60Hz .
Fuse: 0.5A/250V.
Output power: ≤35VA.
Vibration frequency: 28kHz-34kHz.
Water pressure: ≤0.3Mpa.
Water flow: 5-100ml/min.
Working envirenment
Ambient temperature: 10°C -40°C.
Ambient humidity: 70%RH.

Panorama picture


Box types for option
Default box of B6
Neutral box of B6

Components.
Mainbody----------1 pcs
Handpiece---------1 pcs
Tips ----------------5 pcs
Wrench -----------1 pcs
Foot pedal--------1 pcs
Pipeline -----------1 pcs
Manuel------------1 pcs
CQ card-----------1 pcs

Carton package information
Carton for six scalers .